Mission Statement
The Temple Beth Israel Brotherhood is an organization of men whose mission is to serve our congregation and community in accordance with Jewish traditions and values. We welcome all men who want to participate in social, educational, social action, and religious activities that support TBI and the Jewish Community of Lane County.
Brotherhood Breakfasts
Our meetings begin at 9:30 am, are free, open to the community, and are not just for men.  Come for breakfast, stay for the company.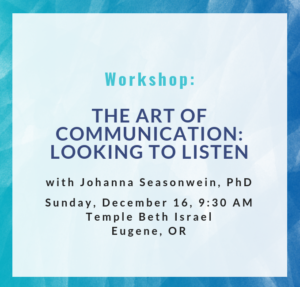 December 16:  Jody Seasonwein presents The Art of Communication: Looking to Listen
Can you think of a time when you didn't feel listened to—or maybe didn't listen as well as you could have? In 2013, Google's internal research identified listening well as one of the top skills needed for effective leadership—and while their survey focused on the professional environment, listening is equally essential for building healthy and productive relationships in our private lives. In this one-hour workshop, we will look at and talk about a work of art together as a way to develop a multisensory approach to listening. At the end of the session, participants will have strategies for improving their listening skills that they can use in their daily interactions with others.
January 27: Irwin Noparstak, Vietnam and Being Jewish
Need more info? Want to help?  Call or email our president Damien Gilbert, 541-521-0868.
B'nai Mitzvah Initiative
We launched our new B'nai Mitzvah initiative, which will contribute $36 to a cause or charity of each Bar/Bat Mitzvah's choosing.  It is our way of letting our newest adult community members know how proud we are of their accomplishments.