Community Sisterhood 
of Temple Beth Israel
Fostering camaraderie across generations and promoting community involvement through service activities
---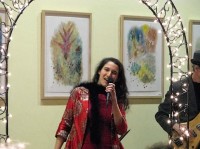 The Community Sisterhood of Temple Beth Israel welcomes people of all ages and interests to join together for fun, learning and for service to our community.  Membership is open to everyone, as are all of our events.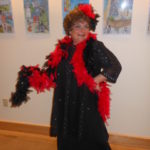 We sponsor a variety of projects and events for our members' enjoyment and for the benefit of the entire TBI community. Our Sunday Cafe provides an opportunity to meet and shmooze while enjoying bagels and other treats.  We invite speakers on a variety of topics to educate and entertain us. We sponsor Simcha Scholarships that send kids to camp and to conferences all over the world. We have offered Jewish cooking classes to Talmud Torah students and continue to be strong supporters of the Jewish Federation's annual Mitzvah Day.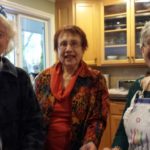 Sisterhood has traditionally taken a special interest in TBI's kitchen since it is used by our whole community. We purchased a new freezer and had several new cabinets installed recently.  We love to partner with other TBI service groups as we did with the Cabaret we co-sponsored with Brotherhood and the Queer Chavurah. It was grand fun that filled the social hall to overflowing and exceeded all our expectations.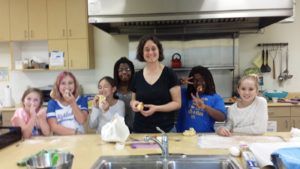 No matter what interests you, whether you like best to work or to play, you will find something you enjoy in Sisterhood. Membership is only $18 per year, or $36 for a generous mitzvah membership. No one is ever turned away for lack of funds.  Click here to join.
For more information contact our president, Phyllis Bobrow, (541) 343-3240,phyllisbobrow@yahoo.com,
---
 T-Shirts, Tote Bags and Aprons saying,
"Shalom from Eugene"  are still available through the TBI Gift Shop or by contacting Phyllis Bobrow
---
Upcoming Events
November 13th        10am          Tea 101 – Kateseen Gill, owner of "Everyone's Cuppa" will share the story of tea.  Come learn about its origin and preparation and taste free samples.  Teas will also be available for purchase.   This event is free!
November 13th          9am         Sunday Cafe.  Come sample delicious pastries and coffee while you schmooze with friends.  Presented by Sandra Luks, Sisterhood's Hostess Extraordinaire.
December 10th          6pm         Cabaret! – Come to the Cabaret at TBI!  Sisterhood, Brotherhood, and the Queer Chavurah are sponsoring this fantastic event.  Come see the wonderful performers!  Signup for karaoke too!  Bring a potluck dish to share.  Come as you are, or make it an occasion and dress to the 9's!  Beer and wine available for purchase.  Bring your family and your friends!  This event is free–free admission, free childcare, and free rides to the show!
January 22nd           2pm            Yiddish Food and Music – Sponsored jointly with the Oregon Jewish Culture Project.  Hear Yiddish music and sample Yiddish food-yum yum! Members $4, non-members $6.
February 12th          10am            All About Mahjong – Ginnie Lo, author of "Mahjong All Day Long", will share stories about mahjong and compare the American version of the game to that played in her Chinese American family.  This event is free!
February 19th         1pm              Cheese Making – Come make cheese in the TBI kitchen with Laura Hinrichs and Susan Jackson, Master Food Preservers with the OSU Extension Service.  Class is limited to 12 participants.  Members $4, non-member $6.
March 16th             7pm              Opera Appreciation – Opera enjoyment for beginners and for aficionados too.  This event is free!
April 23rd              10am             Dachau Letters – A true story of life and love in war torn times.  Sisterhood is co-sponsoring this event with the TBI Education Committee.  This event is free!
May 18th                6pm              "Ahead of Time" – A movie biography of Ruth Gruber, journalist and film maker.  Potluck at 6pm, movie starts at 7pm.  This event is free!
May 21st                 10am           Mitzvah Day – Come volunteer for a morning.  Lots of projects to choose from.  Tikkun Olam for all.
July 9th                   2pm            Wine and Cheese Event – Feast on gourmet cheeses, hors d'oeuvres, salads, desserts, and wines.  Free for paid up members, $10 for non members, free if you bring a tasty dish to share.
Need more info? Want to help?  Call or email our president Phyllis Bobrow, 

530-351-3304 (cell or text) 541-343-3240 (home),phyllisbobrow@yahoo.com