EMCA's Music to Die For Summer Concert Series
Various Dates
Eugene Masonic Cemetery
The Eugene Masonic Cemetery Association features different performers from 2:00 to 3:00 pm on the last Sunday of June, July, August, September and October. Located in the Eugene Masonic Cemetery at 25th and University, the Abbey is up the gravel road from the main entrance. Parking is on the street with drop off available at the Abbey for those who need it.
Hope Abbey is a unique venue with great acoustics. The experience of listening to good music in a mausoleum is something that shouldn't be missed. We almost always have a full house and often have folks standing outside looking in.
To follow up on our concert series, contact our sexton Sallie Dietrich at 541-684-0949, emca1859@gmail.com or concert series organizer, John Bredesen at 541-521-3239, jarthurbredesen@gmail.com.
September 30: Ensemble Primo Seicento. Offering 17th Century music with period instruments.
October 28: Central Horns. A horn quartet playing a variety of music from classical to contemporary.
---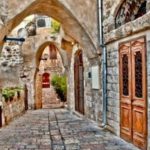 EXPERIENCE THE BEAUTY OF ISRAEL…JOIN THE FEDERATION ON A TOUR IN 2020!
Join the Jewish Federations of Lane County and Portland on a Community Trip to Israel in March 2020, organized by the Jewish Federation of Portland.
Family Friendly (ages 5 and up) with diverse, rich programming. The trip has been greatly subsidized by generous Portland donors.
Further discounts with early bird registration by November 15, 2018. Final registration September 2019.
An informational meeting will be held October 11th, 7:00 pm at TBI.
Full itinerary and trip details can be found here.
Contact Oriana Kahn Hurwit or Rebecca Kovach for more information.
---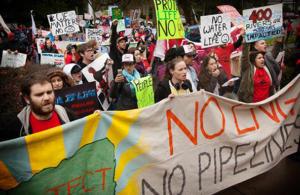 Stop the Jordan Cove LNG Terminal
Now
There's another battle brewing to keep fossil fuel exports out of the West Coast. And we only have a few days to respond. Submit a public comment here to stop the Jordan Cove LNG Terminal and Pacific Connector fracked gas pipeline from being built. Then share this link with your friends.
If built, the Jordan Cove LNG Terminal would become the first liquified natural gas (LNG) export terminal on the West Coast. This project would require the 229-mile Pacific Connector pipeline to be built across public and private land to transport fracked gas from Canada and the U.S. Rockies overseas.
The pipeline would terminate on the coast in a highly explosive export facility in the Port of Coos Bay – putting over 16,000 people at risk in the event of an explosion. Altogether, this project would pollute nearly 500 waterways, harm salmon habitat, impact hundreds of landowners, threaten Indigenous tribal territories and burial grounds, raise energy prices, and become the largest source of climate pollution in Oregon.
The Oregon Department of Environmental Quality (DEQ) and the U.S. Army Corps of Engineers have opened a public comment period on the projects that ends on July 21st. The Jordan Cove LNG Terminal and the Pacific Connector Pipeline require Clean Water Act permits to be built. These projects clearly don't meet the standards set by the Clean Water Act. If we all speak out together, we can stop the permits from being granted and protect our communities from these dangerous projects.
---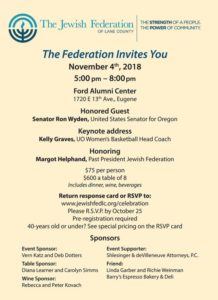 Join the Jewish Federation of Lane County for their Fall Community Celebration! For more information, and to RSVP, please click here.
---
Donations Needed for OVE
TBI partners with the Jewish Federation of Lane County to help provide much needed donations for Opportunity Village (OVE) residents. OVE  provides tiny houses for people transitioning from homelessness.  There is no electricity or heat, so items that provide warmth are especially important. Please bring donations to the barrel in front of the office. Click here for a full list of needs.


Please let everyone at Temple Beth Israel  know that Opportunity Village is ever so thankful for the donations. We are so appreciative of all that your members do for the village. The blankets are especially appreciated as we have many new villagers who came in with little bedding and now that it is getting so cold they will stay warm.
Alice Gentry
Opportunity Village Council
---
We offer these Weekly Torah Commentaries from JRF contributors and bimbam.com, a weekly cartoon about the story Jews are reading in the Torah right now. (Click the icons)