2018 Dream Auction
Spring Forward!
We look forward to seeing you on Sunday! Remember to set your clock forward on Saturday night!
Silent Auction starts at 5:00 pm with one closing at 6:00 pm. Don't miss all the great items in the silent auction including the Grub Grab, jewelry, wine tastings and lots of unique items.
Waldport Beach House
Relax and enjoy the beautiful beaches of Waldport with a 4-night stay.  This newer home features a reverse floor plan, with the living, kitchen and dining areas located on the upper level. With 3 ½ bedrooms (King, Queen, Queen and Trundle) there's plenty of room to both gather together and spread out!
Picture window provides a horizon view of the ocean. An amazing 5 mile stretch of open beach and dunes, driftwood and tide pools is only a block away.  Enjoy ownership privileges at the "Beach Club" pool (summer months).  House is in the Bayshore area, close to restaurants and shops in Waldport! Well behaved pets okay upon request. Mutually agreeable dates.
Donated by: Rebecca Stone
---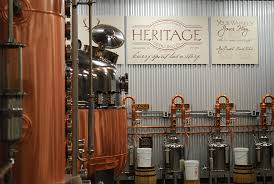 Heritage Distilling Company Tasting & Tour
Gin, whiskey, vodka. You'll taste them all in a private tour of Heritage Distilling Company. Heritage Distilling Co. is the most awarded craft distillery in North America by the American Distilling Institute 4 years in a row with a full production facility and tasting room in Eugene. 10 lucky people will get to sample their spirits and go home with a shot glass on Sunday, August 26th.   Spots will be sold individually.
Donated by: Heritage Distilling Company
---
Unwind Up the McKenzie River 
Does hiking, biking, fishing, golfing appeal to you? How would you like to be near to Hoodoo for skiing? This 2-night stay is just right for you. The cozy cabin is located on the West Fork of Horse Creek near the McKenzie River, an hour from Eugene and about an hour to Sisters. It's set in Old Growth timber that is beautiful any season.
The deck overlooks the creek, with deck chairs and barbecue grill available. Built by Jon it has a full kitchen and full bath with shower. Sleeps 7: a trundle "pop-up" bed in the alcove downstairs and two bedrooms upstairs (one with twin beds, the other with a queen-sized bed and a single futon).
Untether from technology for the stay; no TV, no land-line phone, and spotty cell phone service. No pets and no smoking please. Dates to be mutually agreed upon.
Donated by: Jonathan and Hahn Neimand
---
Ducks on the 50 Yard Line
Two tickets on the 50-yard line – premier seats, 5th row, right behind the Oregon bench. Saturday, October 13th vs. University of Washington. Go Ducks! Need we say more?
Donated by: Kenneth & Kenda Singer
---
Escape to Portland
Escape to Portland for a 2-night stay in this four room, one bedroom, one bathroom apartment located on the second floor of the Tudor Arms Condominiums, an elegant building listed on the National Register of Historic Places. French doors between the living room and dining room create a private "second bedroom" with a queen-sized sleeper.  Fully equipped kitchen and contemporary and antique furnishings make for a comfortable stay as do a complimentary bottle of Pinot!  It's a short walk to one of many wonderful restaurants in NW Portland including Bar Mingo where you may use the $100 gift certificate included in this package. Tudor Arms is a secure entry building with an intercom and an elevator. Parking passes provided for on the street parking. Date to be mutually agreed upon. No pets, no smoking, please.
Donated by: Ed Black and Geraldine Moreno-Black
---
Learning & Dinner with Rabbi Ruhi Sophia & Rabbi Jacob
Enjoy a beautiful evening of dining and learning with Rabbis Ruhi and Jacob.  Your hosts, Rebecca and Peter Kovach, will welcome you to their home in the woods of South East Eugene. You will have an opportunity to delve into any Jewish topic of your choice in a custom-designed study session with the Rabbis. Dinner for 4, wine and great conversation! Date and topic to be mutually agreed upon.
Donated by: Rebecca and Peter Kovach & Rabbi Ruhi Sophia and Rabbi Jacob
---
Nihilani Condo on Kauai, Hawaii
Enjoy 6 nights at the award winning Nihilani Condo at Princeville Resort on Kauai's lush North Shore. This spacious, two bedroom (1 king, 1 queen), two bath home sleeps 6. The open floor plan includes a comfortable living room with a large flat-screen TV, wifi, Apple tv, queen size sleeper sofa, a fully equipped gourmet kitchen with granite countertops, a spacious dining room and a lanai surrounded by lush landscaping.
You'll be close to the lovely pool that includes a jacuzzi and large covered BBQ area, and a shallow kiddie area. This comfortable home provides a retreat in the manner of the relaxed Hawaiian lifestyle, and easy access to visit the many wonderful sites nearby.
Nihilani is near the Makai Golf Course and Princeville Tennis Club, and within walking distance of the famous Queen's Bath and elegant St. Regis Hotel, with restaurants, shops and public beach. Other nearby attractions include the quaint "old Hawaii" town of Hanalei, and gorgeous Hanalei Bay, a 2-mile long sandy beach.
Nearby activities include swimming, snorkeling, scuba diving, kayaking, fishing, surfing, windsurfing, hiking, horseback riding, zip lining, shopping, tennis and golf. An assortment of outdoor gear is available for your pleasure, including a kayak, surfboard, snorkeling gear, beach chairs, boogey boards, and bicycle. Dates to be mutually agreed upon.
Donated by: Marlene Drescher
---
Deschutes River Lodge Retreat
We are pleased to offer you a 5-night stay for up to 6 people from September 1, 2018 – June 15, 2019 at an award winning architecturally designed Sunriver home nestled on the banks of the spectacular Deschutes River in Central Oregon. This comfortable, quiet and elegant home has 3 master suites, outdoor hot tub family space, an additional private studio suite, majestic views of the Deschutes National Forest and world class backyard fishing, kayaking, rafting, hiking and biking just out the back door.
Nearby Mt. Bachelor offers cross country and downhill skiing and the Sunriver resort offers multiple golf and tennis courts and year-round swimming and workout facility at the spectacular Sharc recreation Center.
Non-smokers only, holidays excluded. No pets. Dates to be mutually agreed upon.
Check back for details on Bird Watching, Rafting Trip, Coastal Getaways, Yoga and more!
Donated by: Sharon Ungerleider
---
Mercer Lake Coastal Getaway
Just about an hour from Eugene and a few minutes from the beach, the Moses Family Mercer Lake Chateau sleeps six with a queen size bed in the loft and two full size sleeper futons downstairs (open to the upstairs so you'll want to be good friends or family), all with a close view of and access to Mercer Lake.  The chateau has its own private floating dock as well as a deck on the lake's edge. Ideal 2 night stay for a small family gathering or romantic weekend away for two. Play on the lake during the day and sit by the fire in the evening.  Pet friendly. Dates to be mutually agreed upon.
Donated by: Philip Moses & Serafina Clarke
---
Bike & Brews with The President & First Gentleman
Biking + beer + summer in Eugene = the perfect mix!  Join hosts Mindy and Marc Schlossberg on Sunday evening, July 15 for a leisurely bike ride around the Willamette River. You'll depart from their house near the UO and stop at 2 brewpubs along the way for beer and food. This will be a slower-paced ride and will last about 3 hours (including stops). Beer and snacks included, BYO bike! Maximum 8 guests.
Donated by: Mindy & Marc Schlossberg
---
More Duck Tickets
4 tickets to the September 8th UO vs Portland State Duck football game. Tickets are located on the 45 – yard line, in the 4th row behind the home team.
Donated by: Matthew Shapiro and Maylian Pak 
---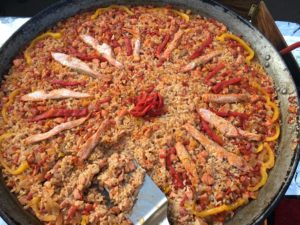 Paella with Val
Local Democrat, Val Hoyle will create a pleasing paella for up to 8 people at a location of your choice. Val's a versatile cook who will make the dish with protein of your choice. Her crowd-pleasing salmon and roasted red pepper paella is pictured here.  Date to be mutually agreed upon, witty banter included free of charge.
Donated by: Val Hoyle
---
Bird Watching with Margie Paris
We need the description on this one. See beautiful birds. Hear the chirping. Trees. Birds. What could be better? A nice spring afternoon of bird watching with birder Margie Paris……
Donated by: Margie Paris
---
The Play is the Thing!
Head to Ashland for two nights stay at Abigail's Bed and Breakfast Inn, conveniently located within walking distance to downtown Ashland. Highly rated No 1 by Trip Advisor for two years running, Abigail's is one of Ashland's premier Bed and Breakfast Inns. Built in 1904 the beautiful Victorian house retains many of its original Craftsman details with comfortable, recently upgraded en-suite guest rooms. (Expires 10/31/18) Take in a play with tickets to the Oregon Shakespeare Festival (voucher expires 10/30/18 and some restrictions apply) and enjoy a diverse menu of fresh and flavorful selections at Greenleaf Restaurant with a $25 certificate.
Donated by: Rebecca and Peter Kovach, Abigail's Bed and Breakfast Inn, Oregon Shakespeare Festival, Greenleaf Restaurant
---
Asian Fusion Dinner
Enjoy dinner for 6 in the rustic charm of the Jacobson Tepfer home. Fine food, excellent wine, good conversation.  Guests should be spice-loving, gluten tolerant omnivores.  Date to be mutually agreed upon.
Donated by:  Esther Jacobson-Tepfer and Gary Tepfer
---
Sunset Sail Away
Imagine a perfect summer evening as you sail into the sunset on beautiful Fern Ridge with your captain, TBI member and long-time sailing instructor, Richard Levy. Up to 4 people. Four delightful hours on the water. Sailing season ends September 16th.  Pre-arrange your date no later than August 18th.
Donated by: Richard Levy and City of Eugene Outdoor Program
---
Perch on Perch
Just a mile north of Yachats and steps from the beach, you can perch for the weekend in this coastal getaway.
Two nights, two bedrooms, one bath, deck. Accommodates 2-5 people. Some ocean view and just ½ block from the spectacular 804 Coastal Trail. Sorry, no pets or smoking in the house.
Donated by: Chuck Bader & Lois Safdie
---
Raft the McKenzie River
Up to 4 people
Lunch included
All equipment provided
What could be better than a summer afternoon rafting trip down the beautiful McKenzie River?    Just show up with a bathing suit, sunglasses and a hat.  Lunch included, life jackets and river boots provided. Gary Marcus, TBI member and River Guide Extraordinaire will meet your group at the Vida store around 11am, put in at Finn Rock, lunch on a beach half way down the river, take out around 5pm at Helfrich Landing.  Your car will be at the take out. You can be back in Eugene by 6pm – or indulge in pizza and broasted chicken at Ike's Pizza, an iconic downhome restaurant on the McKenzie Hwy. Mutually convenient day to be arranged between July 6 and August 3.
  Donated by: Gary Marcus
---
Delightful Israeli Dinner
Jody and Jeff invite you to join them in their home where you will enjoy a delicious classic Israeli dinner with offerings for either vegetarians or meat eaters. Includes tabbouleh, hummus, labneh, Israeli salad, grape leaves, tzatziki, etc. All the dishes for a memorable dining experience! Up to 8 guests. Date to be mutually agreed upon.
 Donated by: Jeff and Jody Kirtner