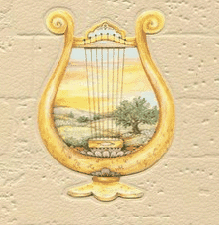 I invite any and all of you to join me in a new Psalms/Tehilim Project, in conjunction with Congregation Beit Simchat Torah in New York City (where I worked from 2013-2015), which has launched this idea and will be our sister community in this project.
I know many of us feel exhausted by the state of our country and of the world these days. Though there have been hard times before, there is a sense that the destruction – of democratic institutions, of the planet, of civil discourse – is snowballing faster than we can hope to respond to it.
Meanwhile, we are approaching the Tisha B'Av, the 9th of Av, the most mournful day in the Jewish calendar (observed July 21st and 22nd). It marks the anniversary of the destruction of the Holy Temple in Jerusalem and the beginning of millenia of exile in 70 ce, a catastrophe that profoundly altered the nature of Judaism for all time. This time connects us to a sense of cosmic anxiety and grief.
Our tradition offers us the Book of Psalms/Tehilim as a response to great emotional uncertainty; the idea the when we're not sure what to do, we can focus our intention by reciting ancient healing words that have the power of hundreds of generations behind them.
Enter the Psalms Project. As a congregation, with each of us taking on a single Psalm, we will recite the entire book of 150 Psalms each day. We will begin the community-wide recitation on Rosh Hodesh Elul, the beginning of the month of Elul, 30 days before Rosh Hashanah. That falls this year on August 12th. We ask that all who take on a Psalm commit to reciting it through the end of all of the fall holidays, on Simchat Torah, on Tuesday, October 2nd.
The details below are based on Rabbi Sharon Kleinbaum's instructions to CBST.
How:
You can recite your Psalm in Hebrew, English or any language of your choice.
You can choose the Psalm you want, or ask us to assign you one.
You can use the translation you want, you can find multiple translations and compare them, and you can study your Psalm with others.
By taking on this Psalm, you commit to reciting one time each day until October 2nd. If you need to leave the project, just let us know so that we can find a replacement to recite for you.
It is fine for multiple people to take the same Psalm, we will make sure all 150 are taken.
We will hold a debrief event in mid-October open to all participants in the Psalms Project.
Why:
Every day, when you hear something that causes despair or anger or hopelessness, read your Psalm.
You will develop a relationship with this Psalm, it will be become your personal cry out to God, or to the Universe. Psalms are often recited when we don't have words of our own. Some of the Psalms are difficult to understand (like poetry), and over time you will find new truths and meaning.
Every time you recite your one Psalm, you will be reminded that others are reciting the other 149, and you will remember that you are part of something bigger than yourself, that you can only do your part, and you need to depend on others to do their part.
If you want to join this project (non-members are welcome as well), please email Dan Weber at dan@tbieugene.org with Psalms/Tehilim Project in the subject line. Please tell him whether there is a particular psalm you would like to say, or whether you'd like me to assign you a Psalm.
May this project support our more public forms of activism. If you are looking for ways to get engaged in public activism, I encourage you to get involved with the efforts in our community by contacting our Tikkun Olam/Social Justice Committee, and/or Sanctuary TBI.
Warmly,
Rabbi Ruhi Sophia Rubenstein