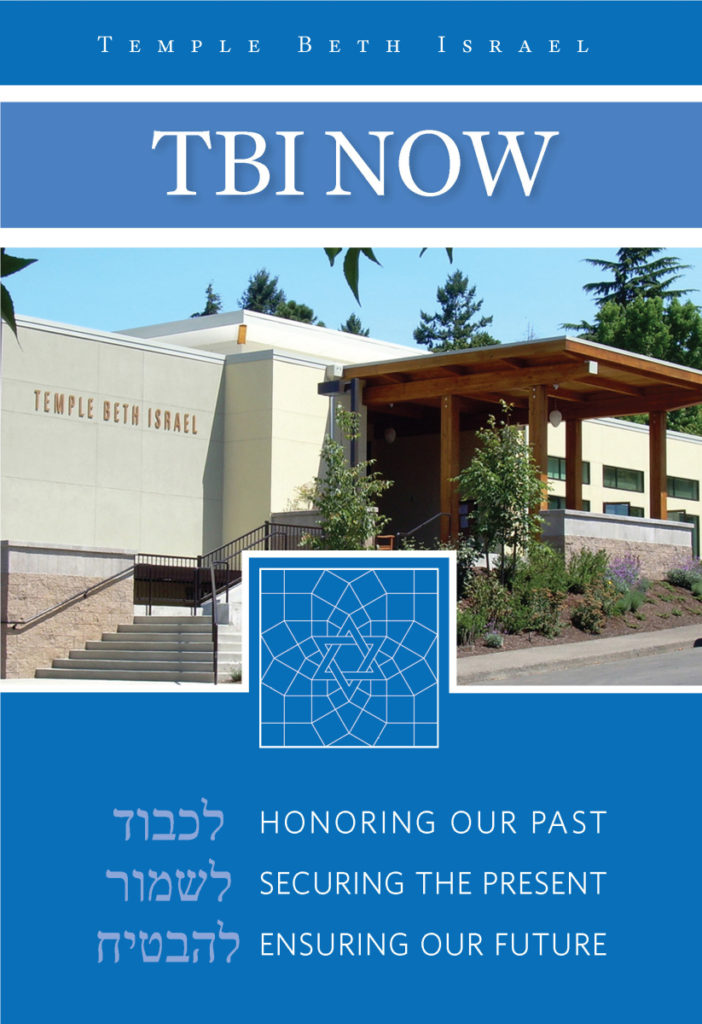 Honoring Our Past
WORKING TOGETHER
On June 8, 2008, the Temple Beth Israel congregation carried our Torah scrolls from our old synagogue on Portland Street to our new home. That joyous walk through Amazon Park was the culmination of 11 years of planning, fundraising, building, and
most of all community conversation. Through our joint efforts we pulled together to create a building that none of us dreamed was even possible, when we started our journey in 1997. The financial commitment to build our new home was extraordinary—far beyond anything previously undertaken in the 80-year history of TBI. For over a decade the community worked towards the goal of completing the building.
A VIBRANT COMMUNITY
We've lived in our new home for six years now. We have infused the building with the TBI spirit of prayer, gathering, and education. Our building has become not only
our home, but also a community resource. We truly have become a vibrant center for Jewish life in Lane County. We have learned what a true gift it is to live in a place that reflects our values and commitment. It is NOW time to finish that fund raising effort and complete the promise of a wonderful new building and a financially stable operating budget.
Securing the Present
We honor the vision and efforts of all those who worked to create our home at 29th and University. It is a facility we can all be proud of—one that reflects the traditions and preferences of TBI members and supporters. TBI is now a vibrant, warm, inclusive, and welcoming community, and a gathering place for:
Jewish religious life that is shaped by tradition as well as contemporary insight.
Culture and arts both Jewish and from a wide spectrum of world cultures.
Jewish education for every stage of life.
Social opportunities for all ages from tots to seniors.
Jewish values in action:

Tikkun Olam—social action, environmental stewardship, accessibility, human rights.

Inter-faith and community gatherings.
Ensuring the Future
The goal of TBI Now is to raise $1 million over the next three years to pay down the debt on the building.
We will ensure that there is forever a beacon of Jewish life in our
community.
Many TBI members, extended family, and friends have contributed to earlier campaigns and support the operating funds. It is because of this ongoing support that we are confident we will raise the $1 million goal.
This is a particularly promising time to finish our effort. We have secured a financing arrangement with our bank to lower our interest rate and to lower our monthly payments as we reduce our loan principal.
Now is our opportunity to secure the future of TBI by lightening the financial burden of our mortgage. By doing so we will be ensuring that generations to come have a place to worship, study, and to come together as a community.
To Ensure that our loan balance drops as quickly as possible, all new pledge payments will be applied directly to the principal.
Each and every donor to the TBI Now campaign will be recognized, regardless of the size of his or her gift. There is a large donor plaque in the entrance of the building that will be updated with donor names throughout the year.
Pledge Options
You have a number of options for paying your pledge.
Many people pay in cash, while others pay with appreciated assets, such as stock or mutual fund shares, as there are a number of advantages to the donor.
To make giving easier, all pledges may be paid over 3 years–some pay monthly, others in a lump sum or with annual payments.
Questions? Please contact us.
Nathan Philips
(541) 686-1807
nathan @ np-llc.com
Nina Korican
(541) 485-7218
nina @ tbieugene.org