From the Rabbi
You've been hearing a lot of from me recently about Tisha B'Av. For those who think of the holiday only in terms of the destruction of the ancient Temple, my attention to it may not make a whole lot of sense. For those who understand the Three Weeks and the holiday itself to be a container for the grief and rage that we feel at the brokenness in the world, at failures of humanity and the spread of senseless hatred, then Tisha B'Av is all too relevant. My piece for Truah.org: "The Weeping Mother Speaks," is about one of the most basic connections between the ancient themes of the holiday and the situation in our world today.
Bat Mitzvah of  Meira Griffel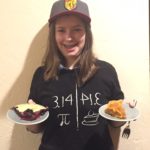 Saturday, July 28th, 9:30 am
Please join in the celebration of Meira Julia Griffel as she is called to the Torah as a Bat Mitzvah. Meira attends Spencer Butte Middle School. She loves Science, Kung Fu, and reading-mostly post apocalyptic fiction. Meira is a total Potter Head.
---
TBI Preschool is Hiring
The TBI Preschool is Hiring 2 teaching assistants for Fall.
Please click here to see our craigslist posting for details.
---
Israel Program Task Force presents "Bonjour Monsieur Shlomi"
Wednesday, July 18th, 7:00 pm.
Click here for trailer.
---
Camp Chaverim
July 23rd-27th, 9:00 am-3:00 pm
Temple Beth Israel offers a fun-filled week of Jewish summer day camp. Activities include outdoor games and play, songs and stories, crafts, a mitzvah project, and informal Jewish learning. Join old friends, make new friends, and have fun with our amazing teen counselors! Find details and register here!
---
We Still Have Some Dream Auction Items Available!
Please contact Jerrica in the office (541.485.7218 ext.103) if you're interested in any of these items. They will be sold on a first come, first serve basis. More details here.
---
Sign Language Interpretation
Some services and events have interpreters scheduled.   Please notify the office if you would like interpretation at additional upcoming services or events.
---
Fill Up at SeQuential BioFuels and Support TBI! 
TBI earns 5 cents a gallon every time you fill up. Add a cup of coffee and a treat at the store and they'll donate 5% of the purchase. It's easy – just mention "TBI." Locations: 86714 McVay Hwy. and 18th & Chambers in Eugene.