NEW! Online Oneg Sign Up
Offering to host an oneg is a mitzvah, and your gift of time and effort are greatly appreciated. You can host in honor or in memory of a loved one, or simply to partake in the mitzvah. All instructions on hosting will be provided to you, as will reminders the week of your scheduled hosting date. For any questions, contact Shirley in the office.
TBI Community Night at the Em's
Thursday, July 27th, 7:00 pm
Tickets: $11.00 (kids under 3 are free when seated on your lap). Parking & Food Voucher Included: at the gate receive a voucher for a kosher hot dog, chips, and a drink. For tickets, email campchaverim@tbieugene.org.
Jewish Literature Group
 Thursday, July 27th, 7:00 pm
The literature group comes together monthly to discuss classic and contemporary books by Jewish writers from the U.S. and across the world. Discussion is guided by questions prepared by the facilitator to open up the political, cultural, and literary dimensions of the book. All are welcome! This month's book: Seize the Day by Saul Bellow
Tot Shabbat
Friday, July 28th at 6:30 pm
Join Rabbi Ruhi Sophia for stories, songs, and dancing as we bring in Shabbat. Followed by regular adult services at 7:30 pm.
Shabbat Alive! with Evlyn Gould and Emily Fox
Saturday, July 29th at 10:00 am
Together, we co-create a treat for the ears as well as for the soul. The comfortable, relaxed and participatory environment combined with a deeply connected musical atmosphere makes Shabbat Alive! a warm and welcoming space for anyone looking to honor Shabbat in song and movement, deep Torah, joy, and reverence.
Tisha B'Av Services

Monday, July 31st, 8:30 pm
Tisha B'Av Evening, join Rabbi Ruhi Sophia for a meditative chanting ma'ariv (evening service) and Reading of Eicha – Lamentations.
Tuesday August 1st, 8:00 pm
Circle for Redemption and Potluck Break Fast. Join Rabbi Ruhi Sophia in the Truth Mandala activity developed by Joanna Macy, a tool for moving through anger, fear, and grief towards redemption. We will follow with Kiddush Levana – the blessing of the moon, song, and a potluck vegetarian break fast. Please no meat or shellfish.
Shabbat in the Park

Friday, August 4th at 6:00 pm
TBI is bringing music and worship to Alton Baker Park to give folks a chance to experience a short, fun service under the sky. Bring a vegetarian or fish picnic supper (please note this is not a potluck), blankets or lawn chairs.
NEW! Chanting Group
Thursdays, 5:30 pm 
Tom Broeker and David Ouellette (guitarist with Kitov) are offering a weekly 2-hour workshop…an ongoing/drop-in group experience wherein each participant will experience his/her unique response to self-generated sound vibration within a group setting. The sound generated by a group of people weaves among all participants, uniting them via the vibration they share.  The experience continues for perhaps 15 – 30 minutes, followed by a period of silence. Come join us.  This practice is powerful. Thursdays, 5:30 – 7:30 p.m at TBI. First session on June 22nd.
Salsa and Sangria 
Sunday, August 20th at 4:00 pm
We have a few spots remaining for the Salsa & Sangria party. Josh Remis and Palmira Veloz are expert salsa dancers who will show you all the right moves in this 90 minute salsa lesson. Bring a partner or come on your own and they'll match you up. No experience needed. Following the class enjoy sangria and non-alcoholic beverages and finger food with the other salseros in a reception sponsored by the TBI Brotherhood! Spots are $25 each.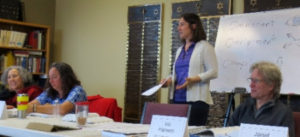 Visit the Community Education Page for details on upcoming events including:  Reading with the Rabbi, lectures, films, and more.
 All Are Welcome
We welcome people of all Jewish backgrounds, interfaith families and people exploring Judaism.  Whether you are religious, cultural, atheist, agnostic or searching, there is a place for you at TBI!
Membership at TBI
We welcome people of all financial means.
To find out more about the community, call us at (541) 485-7218 or complete an inquiry form here.
You are invited to join us for a Shabbat service, where you can meet our Rabbi and our warm and friendly congregation.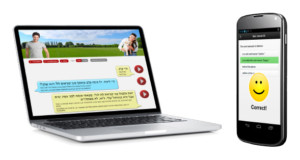 Free Online Hebrew Learning
TBI is pleased to partner with Learn Hebrew Pod to offer FREE Online Hebrew Learning. Through this special partnership you can receive a FREE trial, and special pricing on additional courses.
Community Education
Visit the Community Education Page for details on upcoming events including: Reading with the Rabbi, lectures, films, and more.
Membership Policies
Temple Beth Israel is evaluating our membership policies using a Values Based decision making process. To learn more about this very important process, including how to get involved. Please visit the Membership Policy page. (logged-in members only) The task force is also looking for some feedback from the community. All can take a short survey here.
Divrei Torah & Torah Commentaries
Check out our Archive of divrei Torah here. Rabbi Ruhi Sophia's most recent offering on Mattot-Masei and Black Lives Matter is now available.

Check us out on YouTube!
You can find the High Holiday services, The Purim Shpiel, This American Jewish Life talks by TBI members, and more. Full HD videos and live streaming where available.