Erev Shabbat Services from 6:00 to 7:00 pm!
Shabbat@Home
Friday, December 15th, 6:00 pm
Enjoy sharing Shabbat@Home with new friends. A short, family friendly service will be held at TBI from 6:00-7:00 pm, followed by hosted Shabbat dinners in people's homes. Click below to download an electronic Shabbat ritual kit with blessings and songs. We encourage everyone to coordinate dinners for Shabbat@Home. If you are in need of a place to attend, please contact the office.
Fabulous Chanukah Dinner Dance Party!


Sold Out!!! No longer accepting registrations.
 Saturday, December 16th
Get ready for a Chanukah party extravaganza! We'll gather for candle lighting at 5:30 pm, followed by a delicious dinner provided by Mitzvah Kitchen. Then on to the dancing, which is strongly encouraged! Reservations are now closed, and the space is full, but volunteers are still needed. Sponsored by Sisterhood, Brotherhood, and the Queer Chavurah.  Questions? Contact Sandra Luks.
We still need volunteers!!! If you'd like to help out with in the kitchen on Saturday, please use the sign-up link below!
If you plan on attending, please consider bringing an item for the Opportunity Village collection barrel! Items especially needed are cold medicine, blankets, thick socks, winter hats, flashlights, batteries, and toiletries.
TBI Gift Shop Chanukah Hours

Wednesdays from 5:00 to 6:00 pm
Sundays from 10:00 am to 12:00 pm

The shop will have additional hours on Wednesdays from 5:00-6:00 pm until Chanukah. Come see all the new Chanukah merchandise! We have many menorahs-including electric!!-and pretty candles. There are Holiday Light sets, games, teddy bears, socks, cookie cutters and tableware. New this year – we have Chocolate Maccabees and Jelly Belly snack bags. Books in cart still 75% off!
TBI Preschool Survey

Survey closes on December 20th
The TBI Preschool Committee is gathering feedback on the preschool to have a better idea of our strengths and areas to grow.  Please complete the online survey with feedback on what you love and suggestions for the future. Click below for the survey.
Jam Band Shabbat

Friday, December 22nd, 7:30 pm
Jam Band Shabbat is back after a six-month hiatus! Please join us for an ecstatic singing and dancing Shabbat service on the solstice, Friday, Dec. 22nd. All ages welcome to attend.
Mitzvah Kitchen Invites You to the 2nd Annual A Very Jewish Christmas!

 December 25th, 5:00 pm
'Tis the season for TBI tradition. Mitzvah Kitchen will bring you the most sacred Christmas tradition for American Jews: Chinese Food and A Movie! Join Mitzvah Kitchen and the Israel Program Task Force for a tasty homemade dinner and Israeli movie. We'll light the Channukiah too! Sliding scale donation of $15-50. Bring your friends and family! If you'd like to volunteer or make a donation for supplies, please click below.
Introduction to Judaism for Adults with Rabbi Jacob Siegel
Thursdays, 6:30pm, starting in January
$36 for members of TBI, $60 for non-members
This 6-session interactive course offers an introduction for those seeking to deepen their connection to Jewish heritage and tradition . We'll cover everything from prayer and Shabbat, to dietary laws and lifecycle events. The course will offer basic framing and building blocks for key Jewish practices and concepts, as well as resources and direction for those seeking to learn more, and will cover a pluralistic range of Jewish practices. Reading materials will be provided. No prior knowledge of Judaism or Hebrew necessary. Register on-line at tbieugene.org.
Visit the Community Education Page for details on upcoming events including:  Reading with the Rabbi, lectures, films, and more.
 All Are Welcome
We welcome people of all Jewish backgrounds, interfaith families and people exploring Judaism.  Whether you are religious, cultural, atheist, agnostic or searching, there is a place for you at TBI!
Sign Language Interpretation
Some services and events have interpreters scheduled.   Please notify the office if you would like interpretation at additional upcoming services or events.
Membership at TBI
We welcome people of all financial means.
To find out more about the community, call us at (541) 485-7218 or complete an inquiry form here.
You are invited to join us for a Shabbat service, where you can meet our Rabbi and our warm and friendly congregation.
NEW! Online Oneg Sign Up
Offering to host an oneg is a mitzvah, and your gift of time and effort are greatly appreciated. You can host in honor or in memory of a loved one, or simply to partake in the mitzvah. All instructions on hosting will be provided to you, as will reminders the week of your scheduled hosting date. For any questions, contact Shirley in the office.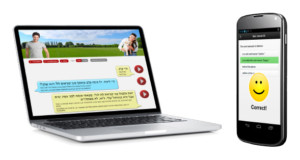 Free Online Hebrew Learning
TBI is pleased to partner with Learn Hebrew Pod to offer FREE Online Hebrew Learning. Through this special partnership you can receive a FREE trial, and special pricing on additional courses.
Community Education
Visit the Community Education Page for details on upcoming events including: Reading with the Rabbi, lectures, films, and more.
Membership Policies
Temple Beth Israel is evaluating our membership policies using a Values Based decision making process. To learn more about this very important process, including how to get involved. Please visit the Membership Policy page. (logged-in members only) The task force is also looking for some feedback from the community. All can take a short survey here.
Divrei Torah & Torah Commentaries
Check out our Archive of divrei Torah here. Rabbi Ruhi Sophia's most recent offering on Mattot-Masei and Black Lives Matter is now available.

Check us out on YouTube!
You can find the High Holiday services, The Purim Shpiel, This American Jewish Life talks by TBI members, and more. Full HD videos and live streaming where available.