Sh'mini Atzeret and Simchat Torah
Thursday, October 12th, 9:30 am
The Shmini Atzeret Service will be held in the Sanctuary and includes the Yizkor service/Memorial prayers. Service is lay led.
Friday, October 13th, 9:30 am
Simchat Torah will be in the Library and will be followed by a potluck. Please bring a main dish to share. Service is lay led.
Celebrate Simchat Torah
Thursday, October 12th at 6:30pm
NOTE TIME IN NEWSLETTER CALENDAR IS INCORRECT
Dance with the Torah as we complete the cycle of Torah readings and start again with Genesis/Breishit. Live music with the TBI Band and Rabbi Yitz. Treats for the kids.
Learners' Service (B) with Lucy Zammerelli

Saturday, October 14th, 9:00 am
Not just for b'nei mitzvah students, but for anyone who wants to better understand the flow of the Shabbat morning liturgy. Each session will focus on a different section of the service, in rotation. Consider attending all 6 sections A-F, which will rotate twice, even if you can't attend them in order.
Baby Shabbat

Saturday, October 14th, 10:00 am
Come by for Baby Shabbat during Saturday morning services. Once a month, babies, toddlers, and their siblings and caretakers gather at TBI for a Saturday morning service from 10 am – noon. This is an informal drop-in group to connect with other families.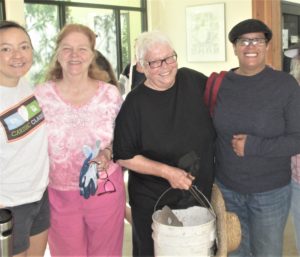 DACA Decision
With the fate of Dreamers suddenly thrown into question, many Reconstructionist communities are concerned and interested in bringing the resources of Jewish teachings to bear on this moral issue. RRC / Jewish Reconstructionist Communities and the Reconstructionist Rabbinical Association just released a statement in response to the rescinding of DACA, linked below. The movement's website is currently featuring a wonderful collection of writing by Reconstructionist rabbis and lay people on the theme of "Embracing the Stranger".
Talmud Torah Advisory Committee is Seeking Sponsors for Talmud Torah Cohort Classes
Only 1 more sponsor needed! The Talmud Torah Advisory Committee is Seeking Sponsors for Talmud Torah Cohort Classes. Sponsors can be individuals or groups who make a significant financial contribution to support that class in the 5778 school year. If you know of someone who believes in the power of Jewish education to shape our future and has the ability to help in this way, please contact Gretchen Lieberman at talmudtorah@tbieugene.org or (541) 485-1898. We aim to have all eight cohorts sponsored by Simchat Torah.
Sisterhood Members Brunch
Sunday, October 15th, 12:00 pm
The Sisterhood Members Brunch will be highlighted by speaker Judith R. Baskin, Philip H. Knight Professor of Humanities and Associate Dean for Humanities in the College of Arts and Sciences at the University of Oregon. Her presentation is titled, "Perspectives on Jewish Women: Forty Years of Research". This event is free for paid up members and $6 for guests.
Lunch & Learn with Oriana Kahn Hurwit
Thursday, October 19th, 12:00 pm
Balancing Communal and Private Priorities – Participation in or belonging to a Community (a people or world) is a force affecting ethical standards, and can bring with it tensions between the needs and worth of an individual and the needs of the many. What do Jewish texts say about who or what takes precedence and when?
Kids Shabbat with Gretchen Lieberman
Friday, October 20th, 6:30 pm
Bring in Shabbat with stories, singing, and dancing. Suitable for kids ages 6 to 10 and their families. Regular Erev Shabbat Services at 7:30 pm.
Shabbat Alive! with Evlyn Gould & Emily Fox
Saturday, October 21st, 10:00 am
An alternative renewal-style service that experiments with renewed meanings for prayer, including lively songs and music, embodied practices, meditation, rhythmic energies, and prayerful thoughts on Torah.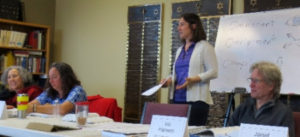 Visit the Community Education Page for details on upcoming events including:  Reading with the Rabbi, lectures, films, and more.
 All Are Welcome
We welcome people of all Jewish backgrounds, interfaith families and people exploring Judaism.  Whether you are religious, cultural, atheist, agnostic or searching, there is a place for you at TBI!
Sign Language Interpretation
Some services and events have interpreters scheduled.   Please notify the office if you would like interpretation at additional upcoming services or events.
Membership at TBI
We welcome people of all financial means.
To find out more about the community, call us at (541) 485-7218 or complete an inquiry form here.
You are invited to join us for a Shabbat service, where you can meet our Rabbi and our warm and friendly congregation.
NEW! Online Oneg Sign Up
Offering to host an oneg is a mitzvah, and your gift of time and effort are greatly appreciated. You can host in honor or in memory of a loved one, or simply to partake in the mitzvah. All instructions on hosting will be provided to you, as will reminders the week of your scheduled hosting date. For any questions, contact Shirley in the office.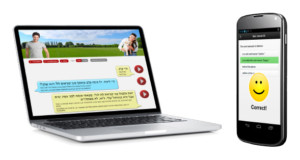 Free Online Hebrew Learning
TBI is pleased to partner with Learn Hebrew Pod to offer FREE Online Hebrew Learning. Through this special partnership you can receive a FREE trial, and special pricing on additional courses.
Bystander/Upstander Workshop
Saturday, November 4th – 1:00-4:00 pm
Wesley Center (2520 Harris St, Eugene)

Learn and practice how to intervene when someone is being harassed in a hateful way–without escalating the situation. Attendance at this workshop must be limited, so please register below. For more information, to be put on the waiting list, or to be informed of the next session, please contact Phyllis Bobrow or Ellen Rifkin.
Community Education
Visit the Community Education Page for details on upcoming events including: Reading with the Rabbi, lectures, films, and more.
Membership Policies
Temple Beth Israel is evaluating our membership policies using a Values Based decision making process. To learn more about this very important process, including how to get involved. Please visit the Membership Policy page. (logged-in members only) The task force is also looking for some feedback from the community. All can take a short survey here.
Divrei Torah & Torah Commentaries
Check out our Archive of divrei Torah here. Rabbi Ruhi Sophia's most recent offering on Mattot-Masei and Black Lives Matter is now available.

Check us out on YouTube!
You can find the High Holiday services, The Purim Shpiel, This American Jewish Life talks by TBI members, and more. Full HD videos and live streaming where available.