Lunch & Learn with Oriana Kahn Hurwit
Thursday, October 19th, 12:00 pm
Balancing Communal and Private Priorities – Participation in or belonging to a Community (a people or world) is a force affecting ethical standards, and can bring with it tensions between the needs and worth of an individual and the needs of the many. What do Jewish texts say about who or what takes precedence and when?
Kids Shabbat with Gretchen Lieberman
Friday, October 20th, 6:30 pm
Bring in Shabbat with stories, singing, and dancing. Suitable for kids ages 6 to 10 and their families. Regular Erev Shabbat Services at 7:30 pm.
Shabbat Alive! with Evlyn Gould & Emily Fox
Saturday, October 21st, 10:00 am
An alternative renewal-style service that experiments with renewed meanings for prayer, including lively songs and music, embodied practices, meditation, rhythmic energies, and prayerful thoughts on Torah.
Jewish Literature Group
Thursday, October 26th, 7:00 pm
This month: The Nightingaleby Kristin Hannah. The literature group comes together monthly to discuss classic and contemporary books by Jewish writers from the U.S. and across the world. Discussion is guided by questions prepared by the facilitator to open up the political, cultural, and literary dimensions of the book. All are welcome!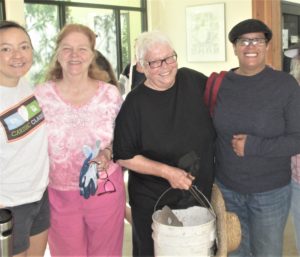 DACA Decision
With the fate of Dreamers suddenly thrown into question, many Reconstructionist communities are concerned and interested in bringing the resources of Jewish teachings to bear on this moral issue. RRC / Jewish Reconstructionist Communities and the Reconstructionist Rabbinical Association just released a statement in response to the rescinding of DACA, linked below. The movement's website is currently featuring a wonderful collection of writing by Reconstructionist rabbis and lay people on the theme of "Embracing the Stranger".
Tot Shabbat with Alexis Reed & Jason Solomon
Friday, October 27th, 6:30 pm
Join lay-leaders for singing, and stories, followed by blessings with challah and juice. Suitable for kids ages 5 and under, and their families. Regular Erev Shabbat Services at 7:30 pm.
JFLC Community Celebration and Benefit
Sunday, October 29th, 5:00-7:30 pm
The Jewish Federation of Lane County invites you to their JFLC Community Celebration and Benefit featuring keynote speaker Dr. Shoshana Ungerleider. They will be honoring Sharon Rudnick. Dinner, wine & beverages will be served. For details and to reserve click here.
Big Sonia – Film Screening & Meet the Director
Thursday, November 2nd, 7:00 pm
Follow the story of 91-year-old Sonia Warshawski – great-grandmother, businesswoman, and Holocaust survivor. A poignant story of generational trauma and healing, BIG SONIA also offers a laugh-out-loud-funny portrait of the power of love to triumph over bigotry, and the power of truth-telling to heal us all. A discussion and reception with director Leah Warshawski follows the screening. The event is free but registration is required. Register here or call toll free 1-877-926-8300. Presented by AARP and Temple Beth Israel.
Shabbat@Home
Friday, November 3rd, 6:00 pm
Enjoy sharing Shabbat@Home with new friends. A short, family friendly service will be held at TBI from 6:00-7:00 pm, followed by hosted Shabbat dinners in people's homes. Come together in community for an intimate gathering to meet each other and celebrate Shabbat with a potluck meal. Please note: for this round of Shabbat@Home, we already have hosts and are accepting guests to participate.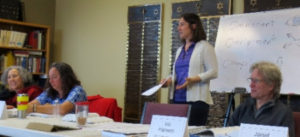 Visit the Community Education Page for details on upcoming events including:  Reading with the Rabbi, lectures, films, and more.
 All Are Welcome
We welcome people of all Jewish backgrounds, interfaith families and people exploring Judaism.  Whether you are religious, cultural, atheist, agnostic or searching, there is a place for you at TBI!
Sign Language Interpretation
Some services and events have interpreters scheduled.   Please notify the office if you would like interpretation at additional upcoming services or events.
Membership at TBI
We welcome people of all financial means.
To find out more about the community, call us at (541) 485-7218 or complete an inquiry form here.
You are invited to join us for a Shabbat service, where you can meet our Rabbi and our warm and friendly congregation.
NEW! Online Oneg Sign Up
Offering to host an oneg is a mitzvah, and your gift of time and effort are greatly appreciated. You can host in honor or in memory of a loved one, or simply to partake in the mitzvah. All instructions on hosting will be provided to you, as will reminders the week of your scheduled hosting date. For any questions, contact Shirley in the office.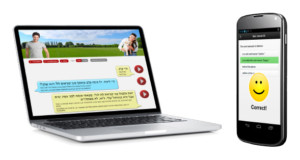 Free Online Hebrew Learning
TBI is pleased to partner with Learn Hebrew Pod to offer FREE Online Hebrew Learning. Through this special partnership you can receive a FREE trial, and special pricing on additional courses.
Bystander/Upstander Workshop
Saturday, November 4th – 1:00-4:00 pm
Wesley Center (2520 Harris St, Eugene)

Learn and practice how to intervene when someone is being harassed in a hateful way–without escalating the situation. Attendance at this workshop must be limited, so please register below. For more information, to be put on the waiting list, or to be informed of the next session, please contact Phyllis Bobrow or Ellen Rifkin.
Community Education
Visit the Community Education Page for details on upcoming events including: Reading with the Rabbi, lectures, films, and more.
Membership Policies
Temple Beth Israel is evaluating our membership policies using a Values Based decision making process. To learn more about this very important process, including how to get involved. Please visit the Membership Policy page. (logged-in members only) The task force is also looking for some feedback from the community. All can take a short survey here.
Divrei Torah & Torah Commentaries
Check out our Archive of divrei Torah here. Rabbi Ruhi Sophia's most recent offering on Mattot-Masei and Black Lives Matter is now available.

Check us out on YouTube!
You can find the High Holiday services, The Purim Shpiel, This American Jewish Life talks by TBI members, and more. Full HD videos and live streaming where available.