TBI Members – Renew your membership today!
Please return your 2017-2018 membership commitment form to the office as soon as possible. Thank you for your support!
Tot Shabbat
Friday, May 26th at 6:30 pm  
Join Shira Rubenstein for stories, songs, and dancing as we bring in Shabbat. 
Jam Band Shabbat 
Friday, June 23rd at 7:30 pm
Join Rabbi Ruhi, Rabbi Yitzhak, and Evlyn Gould for a Jam Band Shabbat, featuring guest musicians, new music, ecstatic singing and dancing, and moments of mindful meditation. Suitable for congregants and friends of all ages. Musicians, please let Rabbi Ruhi know if you'd like to participate by 5:00 pm on Thursday, June 15th.

Irene Farrera Concert
Sunday, June 25th – 7:00 pm  
Venezuelan singer, songwriter, and guitarist, Irene Farrera, returns to Oregon from her home in Venezuela to share original songs, classics, and the music of her heart.
Refugee Relief Kit Drive
Sponsored by the Refugee Resettlement Coalition of Lane County, TBI's Tikkun Olam Committee and other faith communities. Despite uncertainty about refugees entering the U.S., we have not stopped caring about refugee families. We at TBI can bring help and hope to a refugee family by providing a relief kit or making a monetary contribution that will help fund these kits. A relief kit supplies the most basic items such as towels, soap, toothbrushes and shampoo. Additional information, an example of a relief kit, and a collection bin are available in the TBI Lobby. Please contact Geraldine Moreno if you have questions, would like to make a donation or need a kit to be picked-up. We encourage you to work with others to prepare kits. Thank you for supporting this effort. Download Relief Kit Needs.
NEW! Chanting Group
Thursdays, 5:30 pm (starting June 22nd)
Tom Broeker and David Ouellette (guitarist with Kitov) are offering a weekly 2-hour workshop…an ongoing/drop-in group experience wherein each participant will experience his/her unique response to self-generated sound vibration within a group setting. The sound generated by a group of people weaves among all participants, uniting them via the vibration they share.  The experience continues for perhaps 15 – 30 minutes, followed by a period of silence. Come join us.  This practice is powerful. Thursdays, 5:30 – 7:30 p.m at TBI. First session on June 22nd.
Shabbat in the Park
Friday, June 30th at 6:00 pm
TBI is bringing music and worship to Alton Baker Park to give folks a chance to experience a short, fun service under the sky. Bring a picnic supper (vegetarian or fish OK), blankets or lawn chairs.
Learn with the Rabbi Greatest Hits from Jewish Sources
Thursday, July 6th at 12:00 pm
Rabbi Ruhi Sophia will lead a close reading and discussion of a story from the Talmud and other traditional Jewish sources. Set aside an hour of your day to learn with Rabbi Ruhi Sophia at TBI. Please feel free to bring a lunch. Please no meat or shellfish.
Bystander/Upstander Workshop
Thursday, July 20 – 6:00-9:00PM – Temple Beth Israel
Learn and practice how to intervene when someone is being harassed in a hateful way–without escalating the situation.  In recent months there has been a dramatic increase in hateful incidents all over the country, including right here in Eugene.  People of color, Muslims, LGBTQ people, Jews and others have all been targeted.  At some time you may witness such a situation.  If this should happen, what can you do to help? Experienced teacher Nadia Telsey will lead this workshop where you will learn and practice several ways to appropriately intervene to support a person who is being harassed. The workshop will include lecture, video, demonstration, and practice.  Attendance at this workshop is limited to 24 spaces, all sign ups thereafter will be informed of the next workshop date.
Sponsored by Sanctuary TBI and the Springfield/Eugene chapter of SURJ (Showing Up For Racial Justice).  For more details, contact Judy Boles or Roz Slovic (contact info can be obtained by calling this office).
Camp Chaverim
July 24-28, 2017 at TBI
TBI Families and Friends of TBI: Temple Beth Israel offers a fun-filled week of Jewish summer day camp. Activities include outdoor games and play, songs and stories, crafts, a mitzvah project, and Jewish learning. Join old friends, make new friends, and have fun with our amazing teen counselors!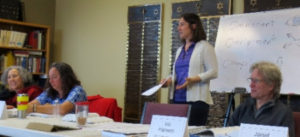 Visit the Community Education Page for details on upcoming events including:  Reading with the Rabbi, lectures, films, and more.
 All Are Welcome
We welcome people of all Jewish backgrounds, interfaith families and people exploring Judaism.  Whether you are religious, cultural, atheist, agnostic or searching, there is a place for you at TBI!
Membership at TBI
We welcome people of all financial means.
To find out more about the community, call us at (541) 485-7218 or complete an inquiry form here.
You are invited to join us for a Shabbat service, where you can meet our Rabbi and our warm and friendly congregation.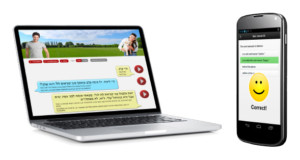 Free Online Hebrew Learning
TBI is pleased to partner with Learn Hebrew Pod to offer FREE Online Hebrew Learning. Through this special partnership you can receive a FREE trial, and special pricing on additional courses.
Community Education
Visit the Community Education Page for details on upcoming events including: Reading with the Rabbi, lectures, films, and more.
Membership Policies
Temple Beth Israel is evaluating our membership policies using a Values Based decision making process. To learn more about this very important process, including how to get involved. Please visit the Membership Policy page. (logged-in members only) The task force is also looking for some feedback from the community. All can take a short survey here.
Divrei Torah & Torah Commentaries
Check out our Archive of divrei Torah here. Rabbi Ruhi Sophia's most recent offering on Mattot-Masei and Black Lives Matter is now available.

Check us out on YouTube!
You can find the High Holiday services, The Purim Shpiel, This American Jewish Life talks by TBI members, and more. Full HD videos and live streaming where available.