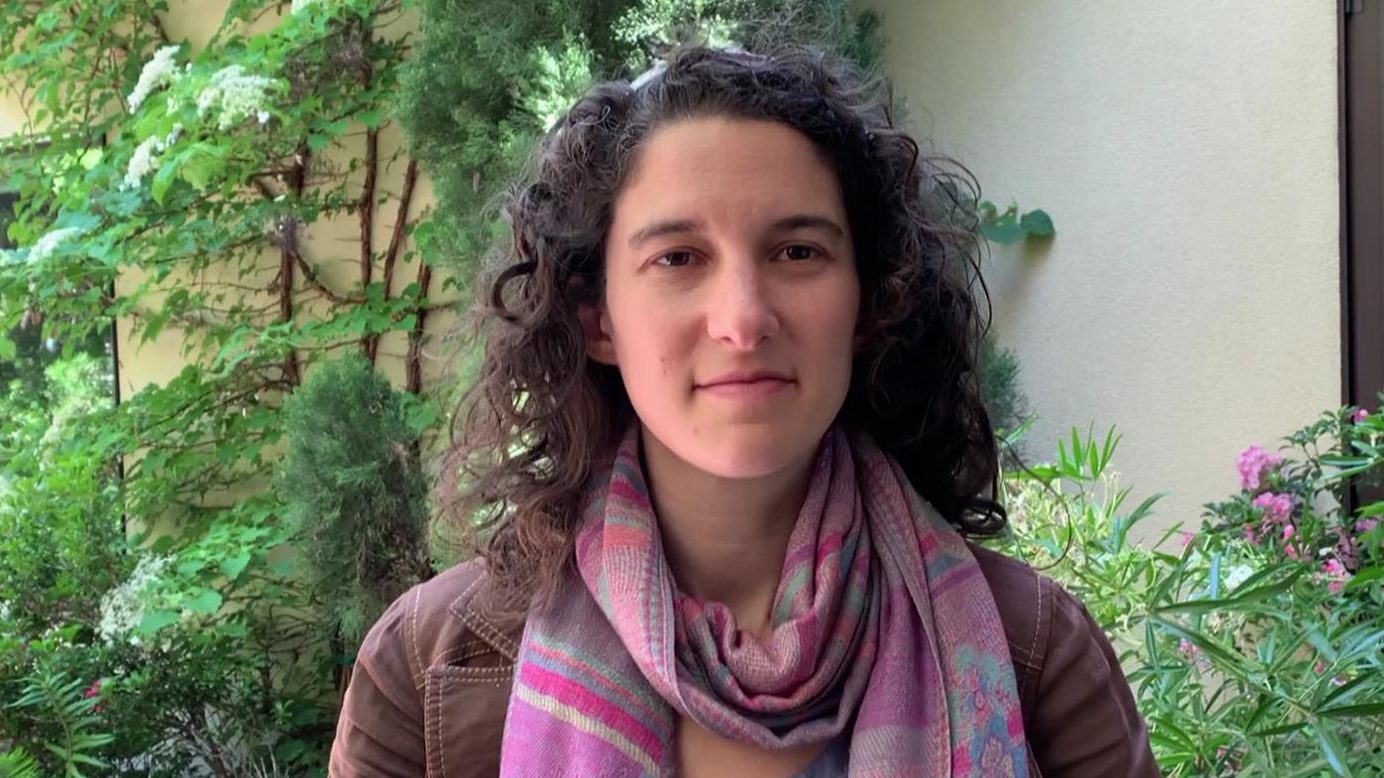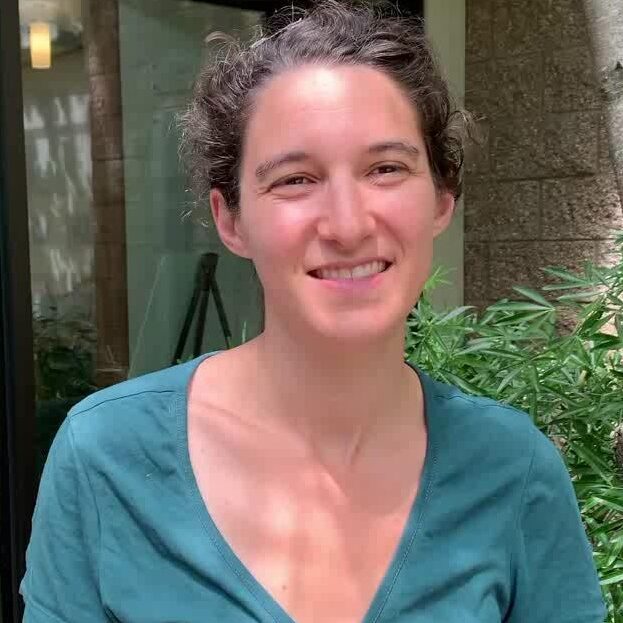 Rosh Chodesh Sameach! For the month of Tevet, Rabbi Ruhi Sophia blesses us with an abundance of joy.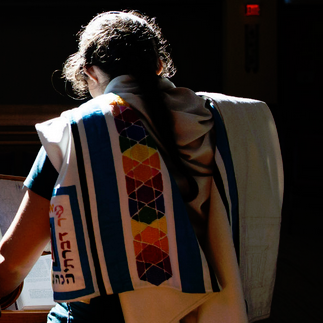 Vayishlach (11/19/21)
In this week's Torah portion, Yaakov returns home after a twenty-year absence, to the land in which he was born, the land promised to his parents and grandparents, the land from which he exiled himself in fear of his brother.
In doing so, Jacob completes a journey that began in the beginning of last week's parashah, Vayeitzei – literally, "he set out." At the start of that parashah, in Chapter 28, 20-22, after dreaming of a ladder with angels ascending and descending, Jacob had sworn a vow, promising "If God remains with me, and protects me on this journey that I am making, and gives me bread to eat and clothing to wear, and if I return b'shalom – "in peace", or "whole", to my father's house—Hashem shall be my God. And this stone, which I have set up as a pillar, shall be God's abode; and of all that You give me, I will set aside a tithe for You."
What does it mean to return to a place, b'shalom – in peace or wholeness, after 20 years? The medieval commentator Rashi, suggests that b'shalom means "perfectly free (שלם) from sin, not having learnt evil from Laban's ways," a hope that Jacob would be unchanged spiritually by his journeys and experiences.
And contemporary teacher Avivah Zornberg suggests, "his call for integrity throughout his exile is part of his vow, and not – as usually read – part of the conditions he lays down before he will fulfill his vow. On such a reading, Jacob takes a certain responsibility for returning whole, "unspoiled" from his wanderings, and, equally, for closing the circle of his travels by returning to his father's house. He does not merely desire such a return, but sets himself in full intentionality on a course of preserving a certain original integrity."[1]
In Chapter 35 in this week's parashah, twenty years later, Jacob finally fulfills the actions promised in the vow, building an altar and making a sacrifice at the same spot he had sworn to do so, before he reaches his father's house and sees him before Isaac dies.
But it is an interesting question whether the terms of the vow were fulfilled – this question of whether Jacob's journeys occurred b'shalom­ either from the perspective of the events that Hashem imposed on Jacob, or according to Jacob's own innocence. Jacob does not arrive home until the very end of this week's parashah, and by the time of his return, he has gained and lost a great deal. He has a family and great wealth now, 2 wives, two concubines, 12 sons, one daughter. He has a new name, Yisrael, gained by wrestling with a mysterious character who injures him and blesses him. He has reconciled, at least superficially with his brothers.
But much has been lost:. He has been wounded in his wrestling. He has seen his daughter Dina abducted and raped in the city of Shechem, and then seen his sons take a shockingly violent vengeance, and refused to meaningfully intercede in either case, taking to the road afterwards, and the text is unclear whether his daughter is with him. In Chapter 35, as the family travels away from Shechem, they experience two deaths: first Devorah, his mother's nurse, and the midrashim suggest that this is a veiled reference to news of his own mother's death, and then, a few verses later, the death of his beloved wife Rachel.
Yaakov returns to his father's house without having manifested the blessing of primacy over his brother, the blessing for which he deceived and ultimately exiled himself. Yet he fulfils the vow, implying that he feels that he has, in some way returned b'shalom.
It cannot mean that he is entirely at peace. He has experienced violence; and he has lost the great love of his life.
Does this mean "unchanged?" – certainly, some aspects of him are unchanged; and that is not necessarily a good thing. He still deceives Esau about his intention to join him and journey together, and according to midrash, about Dina's existence.
But there are hints of change, in the name he brings home; Yisrael – one who will be able to wrestle with God.
Perhaps returning b'shalom is not about being unchanged. Because God forbid that Yaakov would go on such a journey, and not learn anything, not grow. As Rabbi Menachem Mendle of Kotskt taught, "there is nothing so whole as a broken heart."
There are things we all long to return to: times of innocence, times idyll. And perhaps the greatest wholeness we can achieve is in recognizing the impossibility of returning to find ourselves unchanged and the place we left pristine as in our memories. I don't even like how I sometimes regress to teenage behavior when I return to my parents home!
There are the before spaces, and there are theb efore times. And I think about this as I still hear people ask when we will return to normal. The answer must be never. There is no normal we can return to (accessibility, fear). We must envision new ways of creating community, and we cannot do that if we define "returning b'shalom" as returning to an earlier state of being, as if we have not experienced what we have experienced.
Better, I think to honor the ways that experience changes us, changes our relationships and our expectations of the universe. It is a profound thing that Yaakov chose to tell the story of a vow fulfilled, both on his part and on Hashem's. It teaches us that, as Rabbi Jonathan Sacks taught, human existence is not a tragedy: our mortality. Our failures. To be relentlessly, inevitably flawed, as we all are, does not negate the possibility that we are whole. And to be relentlessly, inevitably changed, does not negate the possibility that we might go home b'shalom.
[1] P 217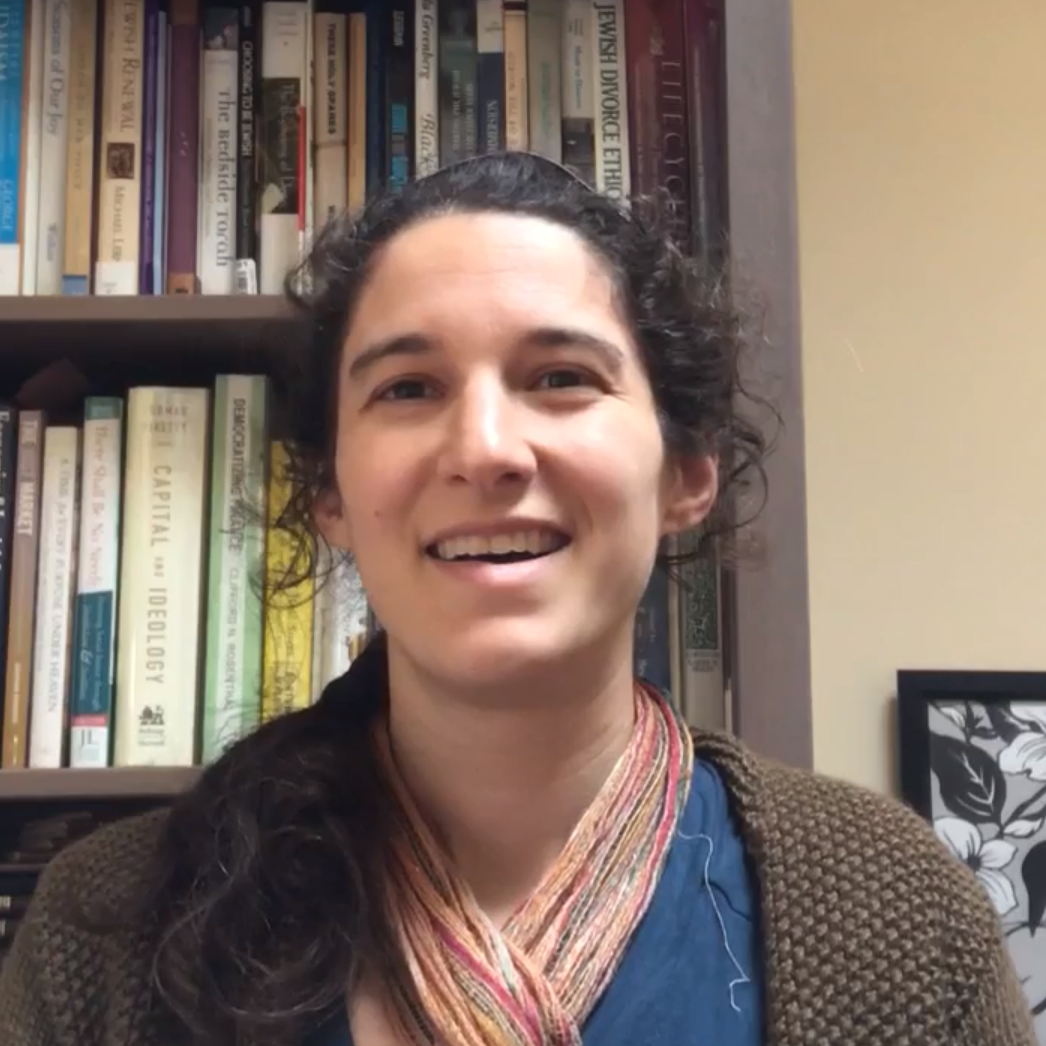 My Personal Shmita (November/December 2021)
Some of you may recall that on Rosh Hashanah evening, I spoke about the biblically mandated shmita year: the seven-year cycle in which the seventh year was a year of agricultural rest, suspension of ownership of land, a debt-forgiveness. Shmita is a larger-scale manifestation of the concept of Shabbat— one sacred day for rest in every week. I invited us all to consider how we might incorporate rest and a spirit of "enough" into our weekly rhythms, especially as this Rosh Hashanah began a new shmita year.
It has been more than six years since I began serving as Rabbi here at Temple Beth Israel, in July of 2015. I love that my seventh year coincides with the cosmic shmita year. This means that I personally will take sabbatical this winter. From December 15 to May 15, I will be stepping away from my duties as rabbi.
I will road-trip with my family, landing (God willing) for a few months in New York City before we return to Eugene. While I am away, I hope to spend a great deal of time outdoors with my children, to reinvigorate my love of Jewish learning with courses at the Hadar Institute, to connect with an old passion for composing chants and other music, and to check out the programming and best practices at some of the most inspiring New York-based synagogues.
Rabbinical sabbaticals are a time for guest and volunteer leadership to shine. Rabbi Yisraela Tubman, who joined our community last year, will be covering my pastoral duties—officiating funerals and checking in with our members who are ill, grieving and otherwise need attention. My "pre-rabbinic intern," Mat Wilson (who delivered the dvar Torah on the first day of Rosh Hashanah) will be taking over some of my educational roles: family b'nei mitzvah class, weekly Torah study, and occasional divrei Torah. And a wonderful rotation of beloved leaders, old and new, will lead services.
Of course, we are fortunate that our community will still be led by our eminently capable and passionate Executive Director, Nina Korican, and President, Jared Rubin, and that we have committees like Tzdekah V'chesed (caring committee), Chevrah Kaddisha (death and burial guides), Bikur Cholim (visiting the sick) and Tikkun Olam (social justice), all serving the ongoing needs of our community.
If you have any questions about Sabbatical coverage, feel free to reach out to me or Nina. I will miss this community, but I hope to return to you well-rested and full of new ideas. I'll be excited to hear about how you are inspired in my absence!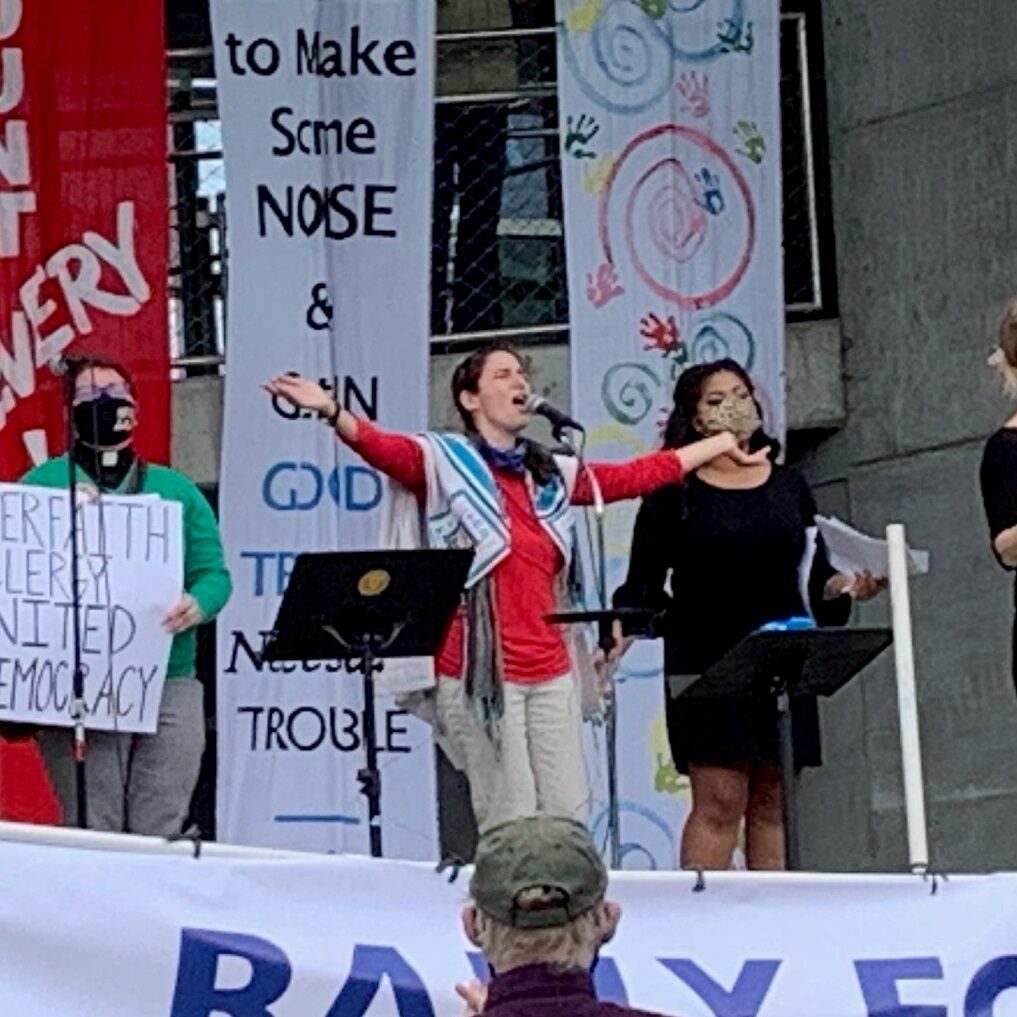 Change is slow, but the struggle is worth it
The Register-Guard (August 14, 2021)
In July, I attended the Eugene City Council's Community Forum on Police Policy, a listening session to hear the community response to the recommendations laid out by Eugene's Ad Hoc Committee on Police Policy. I advocated that the council work to adopt many of the recommendations of this committee as quickly as possible. But I knew that even if the council were 100% on board, not all the policies could be adopted immediately.
Members of the Ad Hoc Committee volunteered their time for almost a year to intensively research, discuss and create their report and recommendations. They included a diverse group of people who rely on public safety and who have reason to mistrust public safety. They relied on the resources created by Campaign Zero and the Task Force on 21st Century Policing. Some of their recommendations are immediately actionable, while some will require a time intensive process and some struggle at many levels of government.
The work of addressing policy accountability is huge. There are many interlocking structures at local, state and federal levels that work against true accountability. Some of the committee's recommendations, particularly those around investigation and prosecution of misconduct, would require changes in state and federal laws regarding police unions in order to be implemented locally.
As of The Register-Guard's most recent reporting (July 27), city staff is working on a matrix for addressing the recommendations, which will be presented to the city council (and presumably be made public) in early fall. We should be prepared to pay attention and appropriately respond to what they show us.
When the matrix is presented, if we in the concerned public are satisfied with the proposals but stop paying attention to make sure they are implemented, that would be a mistake. If we express exclusively outrage at the city council and employees because the matrix doesn't seem comprehensive enough, or the timeline doesn't move quickly enough, that would also be a mistake. If we waste outrage at the city council because it isn't doing things that is not in its power to do in the first place, instead of putting pressure where it could be effective, we will undermine the process that we claim to support.
If the city does move on the immediately actionable items, particularly expansion of non-sworn emergency response services and clarifications in use of force policies, it could mitigate harm right away, and set the stage for more profound reforms. That would be progress worth celebrating, even though it would be incomplete progress.
If we expect all the change to happen at once, and then it doesn't happen all at once, we will rage or despair — and stop paying attention. Change requires a long-term process of education, advocacy and struggle. As one of my mentors taught me, "activists routinely overestimate how much can be accomplished in one year, but underestimate how much can be accomplished in 10."
Celebrating progress is necessary, not to distract from the work still to be done, but to bolster our stamina for struggle: to remind ourselves that things change when we work for change, and that even though the change is slow, that struggle is worth it.
Ruhi Sophia Motzkin Rubenstein is the rabbi of Temple Beth Israel in Eugene and writes a monthly column for The Register-Guard.

View our archive of her past newsletter columns, her divrei Torah (sermons), and writings of former rabbis and other members of the TBI community.