History
A Brief History of Temple Beth Israel and Eugene's Jewish Community
By Amy Crain (edited for length)
The first recorded Jewish presence in Eugene dates back to the late 1860s when German Jews including Goodman Bettman and Samson Freundlich (Sam Friendly) came from Portland and built up successful mercantile businesses. In 1888, according to an article published in The Jewish Messenger in New York, Eugene had six Jewish families. A rabbi came from Portland for special occasions, and otherwise the families observed the holidays and kept the traditions amongst themselves. By the 1920s the original German Jewish population in Eugene had yielded to Jews of primarily Eastern European ancestry. Religious services were conducted by members of the community, who met at the home of Hyman Rubenstein at 231 West Eighth Street. The house was later remodeled as a synagogue, and Temple Beth Israel was founded in 1934 with approximately twenty families. This first building served the congregation through World War II.
By the late 1940s the congregation had grown to fifty families, and Jack Brenner and Harry Rubenstein led a fundraising drive that culminated in the present building at 2550 Portland Street, dedicated in 1954. Lay leadership continued for several years until Rabbi Marcus Simmons was hired in 1959, followed by Rabbi Louis Neimand who guided the Conservative congregation from 1963 until his death in 1976. Membership increased from eighty families to 118 during his tenure. In reflection of the alternative Jewish lifestyles emerging in Eugene in the 1970s, TBI looked to the Reform movement for leadership, and hired Rabbi Myron Kinberg in May 1977. That same year, Cantor Yitzhak Husbands-Hankin was formally hired for the High Holidays after serving the congregation as a volunteer for several years. In the mid-1980s the building was expanded to accommodate the growth of the congregation to 250 households, and both the Rabbi and Cantor were full-time. By 1992, when membership reached 375 households, including 170 students in Talmud Torah, the congregation began talking about a new building.
In 1994 Rabbi Kinberg relocated to the East Coast, and Assistant Rabbi and Cantor Yitzhak Husbands-Hankin, who had served TBI for eighteen years in many leadership positions, became Rabbi. He became Senior Rabbi when Rabbi Maurice Harris joined the staff of TBI in 2003.
In 1996 TBI affiliated with the Jewish Reconstructionist Federation (now Jewish Reconstructionist Communities.) When anti-Semitic incidents threatened the safety and security of TBI and its congregants, the community stepped forward in solidarity. Leaders at TBI are recognized as members of the community who stand up for justice.
TBI purchased a new site at 29th and University in 1997, and began design work. In the spring of 2005, the plans were revised to better fit the congregation's financial means and community values. The final phase of the Capital Campaign kicked off in late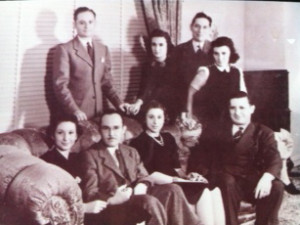 February 2006 and the current building was completed in 2008. The congregation moved to the facility on Shavuot in 2008.
Top Row:
Harry and Jean Rubenstein

Sam and Eleanor Rubenstein
Bottom Row:
Molly and Nate Rubenstein

Ruth and Max Rubenstein